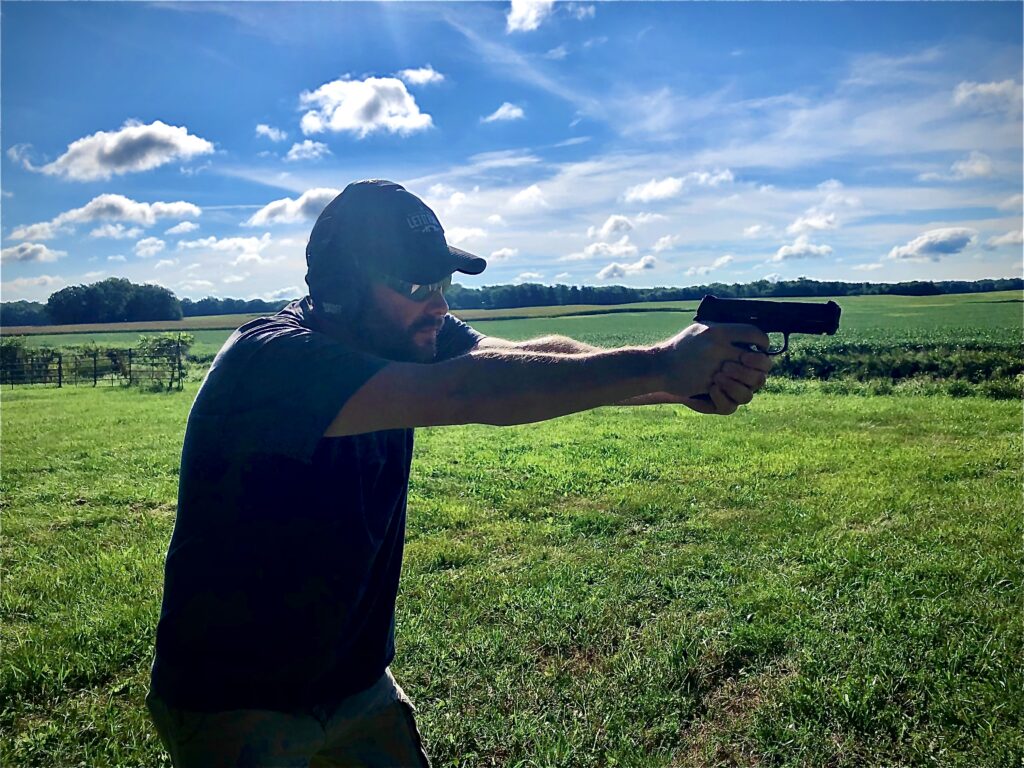 What kind of shotgun is the Mossberg MC2c?
Talk to most people about guns, mention Mossberg, and they probably think you're talking about shotguns. While there has always been more to the gunmaker than that, for a long time that was the biggest part of their business.
Recently though the rifle and even handgun part of the Mossberg portfolio has been growing. First with the MC1, then MC2c, and most recently the MC2sc.
How have the handguns from what many traditionally think of as a shotgun manufacturer been received? Is it really a gun you should consider, especially for EDC?
Good questions. Let's answer them as we dive into my experience with the Mossberg MC2c.
The authors at Tag Soup Adventures may receive free or discounted products to include in reviews or stories on the site.
MC2c Model and Specs
The Mossberg MC2c I've been using is sku# 89012. This is the matte black version with standard sights and no manual safety. Upgraded sight packages are available, along with models with a manual safety, and two-tone stainless/black versions. I opted for the classic look. I'm a classic kind of guy.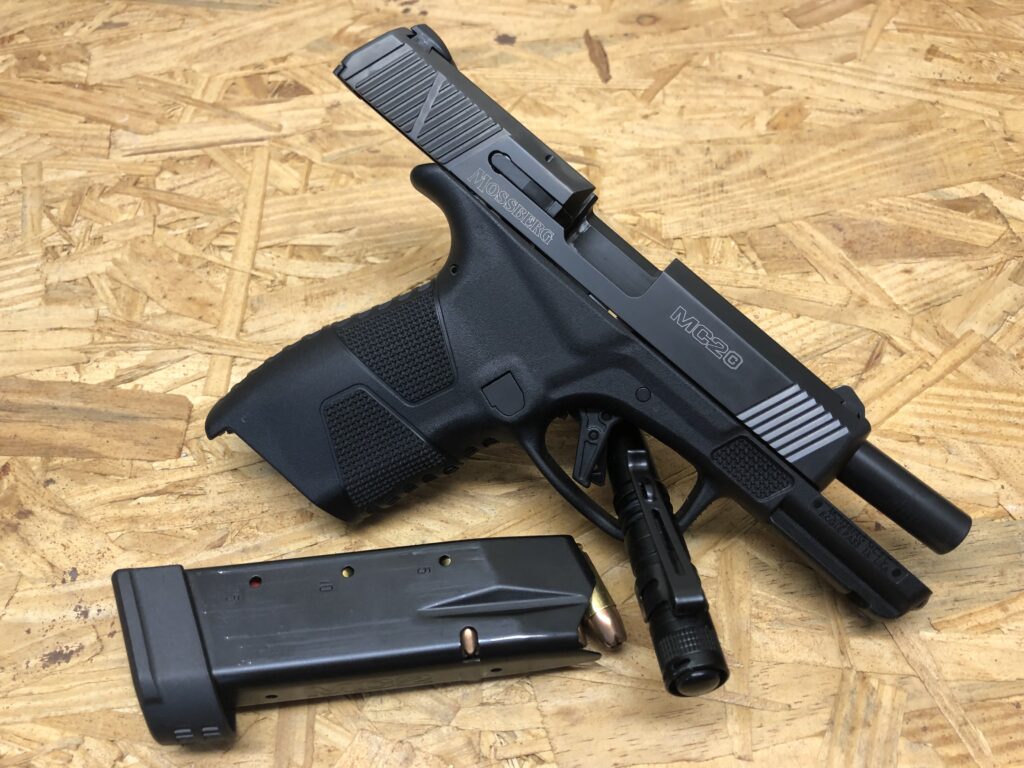 Specs
Caliber: 9mm
Action: Semi-Auto
Frame Size: Compact
Overall Length: 7.10″
Width: 1.10″
Weight: 21 ounces (unloaded)
Barrel Length: 3.9″
Barrel Finish: 416 Stainless Steel
Twist: 1:16 RH
Trigger Profile: Flat, Blade Safety
Magazine Capacity: Double stack 13. 15
Sights: White 3-Dot
When Mossberg first introduced the MC pistol line, the only thing that kept me from giving it a try was the single-stack magazine and thus the limited capacity. I am a 9mm guy for myriad reasons, but one of the major factors is for magazine capacity. My EDC should hold as many rounds as is reasonable. I liked the gun. It fit me. But I didn't want to give up magazine capacity.
You can imagine my excitement when the news of the MC2c came. The double stack mags with 13 or 15-round capacity made me very happy. When I was able to put my hands on one at SHOT Show, I was thrilled that the profile of the gun didn't change in any way that wasn't positive. Other popular handguns I won't name here just never feel right in my hand. The Mossberg MC2c does.
Which brings me to my disclaimer that shouldn't need to be said but probably still does.
DISCLAIMER
When it comes time to buy your own handgun, especially if it is going to be your primary EDC, my opinion shouldn't matter. I may love a gun, or hate a gun, but if it feels right to you, you shoot it accurately, and trust it to be reliable, THAT is the gun you should carry. No exceptions.
MC2c Fit and Feel
The MC2c is ahead of a lot of other guns before we go any further because as soon as I pick it up, it feels at home in my hand. The ergonomics and design settle into my hand nicely. The heel of the gun sits in the webbing of my hand properly, offering a secure grip on the gun. It feels balanced in my hands, I don't feel like there is too much weight forward or back. Because I have a natural, comfortable grip, it comes up to my eyes quickly, and I am able to get on the sights without much effort.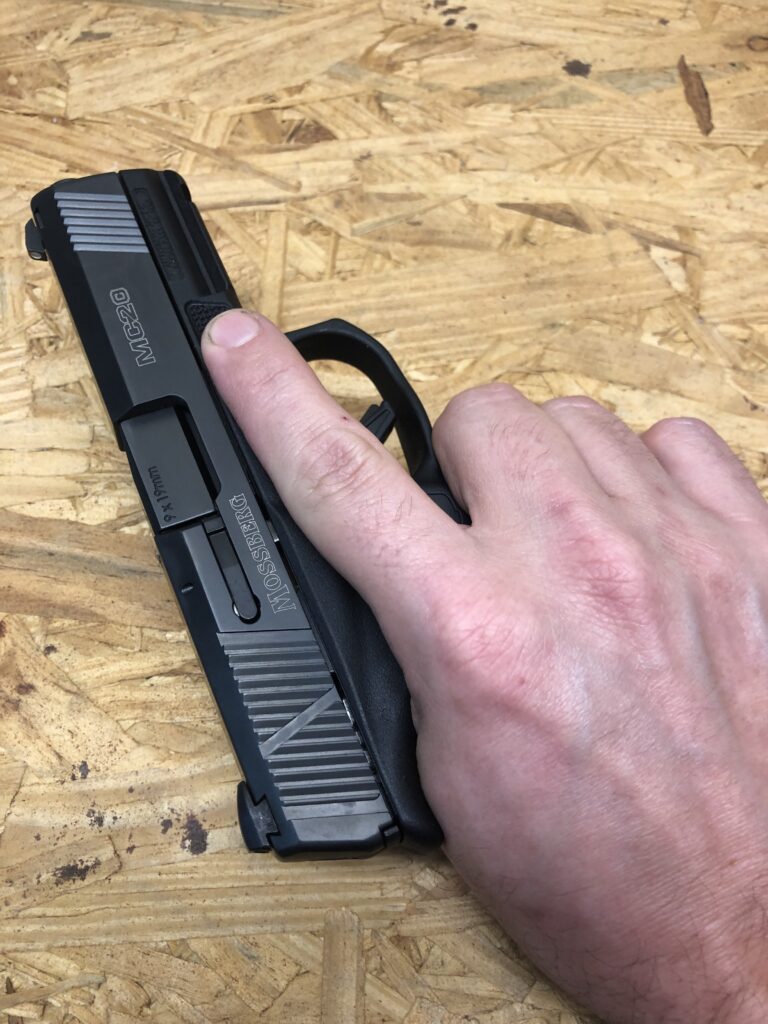 Before I ever pull the trigger I trust this gun when it is in my hands.
If you can't say that about this gun, or any other, that is not the gun you should be using for your EDC.
How Does the Mossberg MC2c Shoot?
If I'm being completely honest, I always hate this part of gun reviews. I've spent more than my fair share of time on the trigger of all kinds of guns and I have yet to find one that can't be rendered useless by someone jerking on the trigger or using poor form. How a gun performs in accuracy tests, especially a handgun, has way more to do with the shooter than the gun.
That said, I must be a better pistol shot than I give myself credit for.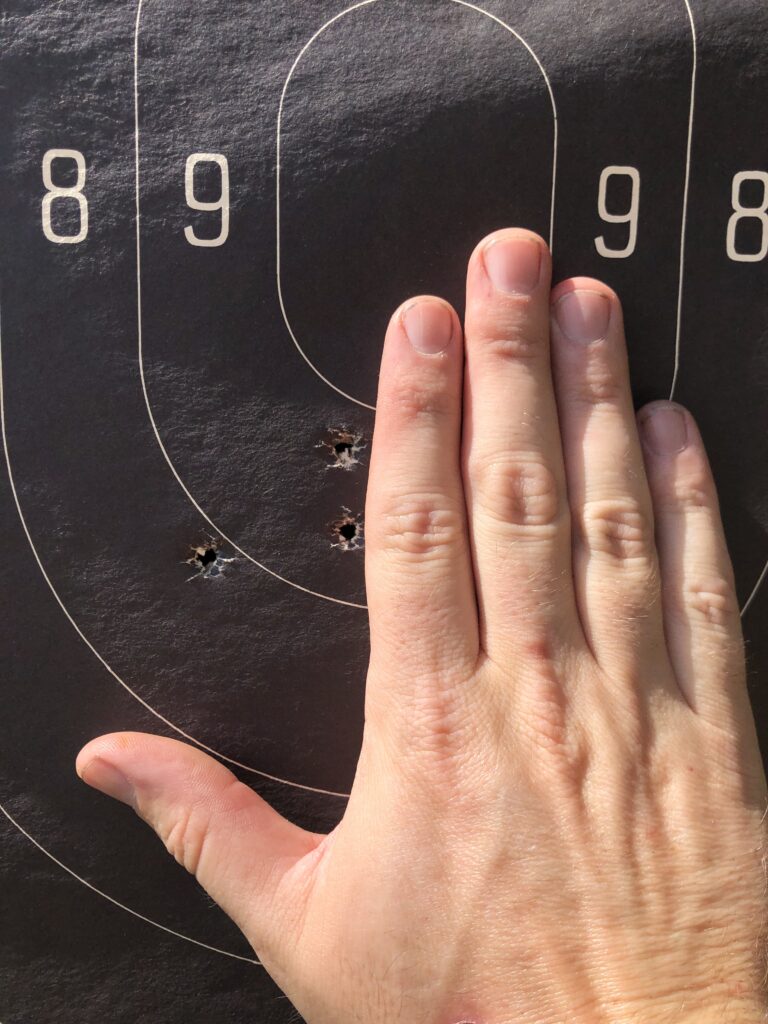 I'm just over 1,000 live rounds through my Mossberg MC2c at this point. I've shot cheap steel-case ammunition and self-defense rounds, and many things in between. The vast majority of these have struck the target near enough to where I was aiming to be called a success. To date I have had exactly zero jams, failure to feeds, ejection issues, or light strikes with the firing pin.
How's the Trigger?
Trigger pull has been true to that roughly 5.5-pound spec sighted above, and the flat profile is a job to shoot. There's a fair bit of travel, which I don't mind on a striker-fired pistol, but the reset is quick and reliable. It's a really good trigger, IMO.
In my experience, if there's a round in the chamber followed by a trigger pull, the MC2c goes boom.
I really like that quality in my EDC pistol.
Almost as important is that the gun is comfortable to shoot. No doubt a significant portion of that is because the gun seems to fit in my hand like Mossberg used my meat hooks as the mold for the grip and trigger assembly. Not that I'm complaining. A gun that fits you will be better to shoot.
I love shooting this gun. Truly.
But as an EDC pistol, you have to love to carry it also.
How is it to carry the Mossberg MC2c?
Just like a pistol has to fit your hand, the style of carry you choose and holster that matches will determine what is comfortable to carry. I took Mossberg's lead on this one and went with the Kydex holster developed in conjunction with DeSantis Gunhide as my primary holster option. The design is fully ambidextrous and can be used as either an IWB or OWB holster. Because it was designed specifically for the Mossberg MC2c, the holster captures the pistol perfectly, snapping right into place, and offering a secure feel while on the hip.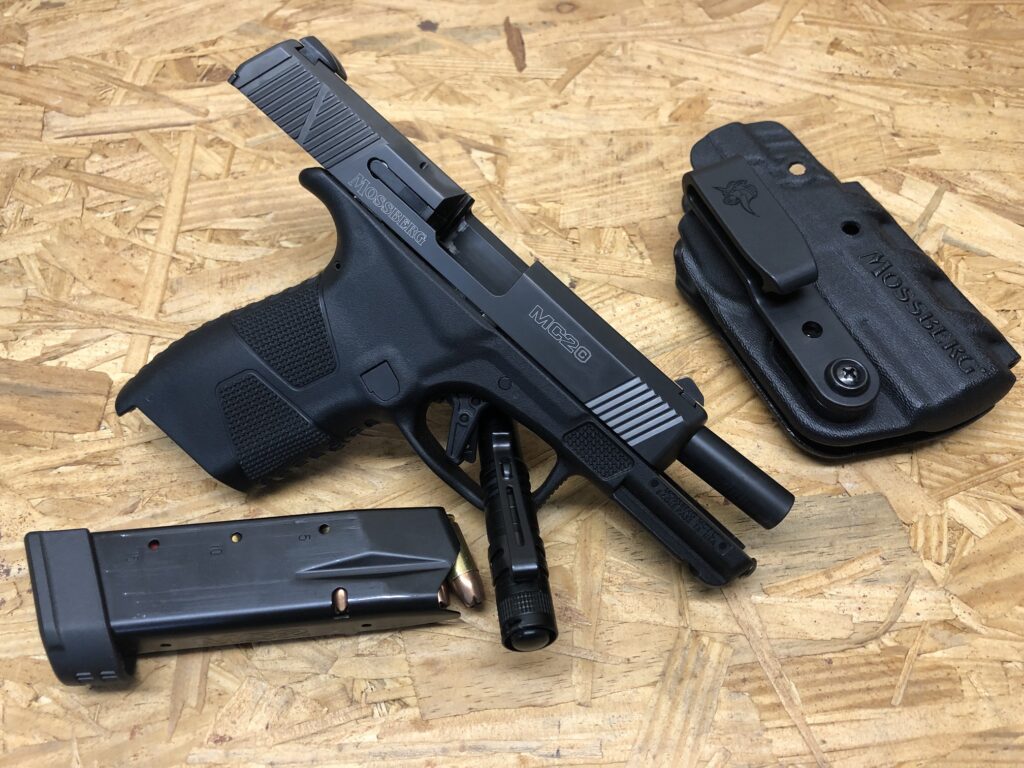 This combination of pistol and holster has become my favorite concealed carry option I've ever deployed. I use the holster in its IWB configuration at my 4 o'clock position. It conceals well and hugs my body closely. Even in lightweight t-shirts, or athletic fit gear it is rare to see any sort of printing. The real surprise to me has been the comfort. I've used a handful of holsters with several other carry guns over the years, and have found several workable options, but none that I truly like wearing as much as this combination.
Find a gun you like to shoot and can shoot well isn't hard. Finding a gun and holster combination that you actually like to carry every day, that is the challenge. This combo delivers on both.
Maintaining Your MC2c
Cleaning guns is not fun or sexy to talk about. The STS (Safe Takedown System) from Mossberg, though, that is pretty damn cool. If you've ever field stripped a striker-fired pistol you've probably experienced the process of having to pull the trigger to accomplish the task. No matter how many times you've done it, it just feels like something you shouldn't have to do. I only want to pull the trigger when I'm shooting at something.
The Mossberg STS eliminates that. With the slide back, depressing a button at the rear of the slide removes the plate from the back of the slide, where the striker can be removed. Now, the slide release can be pressed, allowing the slide to be remove at the end of the forward stroke. Never pulling the trigger.
It's easy, and it's safe. I love it. It's a simple, small thing, but the details of what makes a product standout usually are.
Parting Shots
For me, this little pistol is an absolute home run. It has displaced my EDC of almost a decade and did some quickly. It checks all of the boxes for me. The MC2c is fun and easy to shoot, easy to maintain and at least for me, easy to carry.
If you're looking for an EDC pistol, and not even considering the Mossberg MC2c, I can't for the life of me understand why. If it doesn't fit you, fine. But it should certainly be on the list of guns you're trying before you settle on your next carry gun. It's not just me saying Mossberg is doing good work on these pistols.
Do me a favor, find your local range and take the MC2c, or the newer, MC2sc sub-compact version for a spin. I think you'll be pleasantly surprised by what you find.