Florida is a popular destination for travelers across the country. Most of us grew up with a similar Florida experience. We had a great aunt, or maybe a grand parent that moved to Sebring, Ocala, or Lakeland. At some point the family went for a visit and stayed at the ubiquitous knock-off of Seinfeld's "Del Boca Vista" for a week, spent a day or two at Disney, and sweat our tails off during July in inland Florida.
For me, it was enough to turn me off the state for the better part of two decades.
Then I discovered the Forgotten Coast.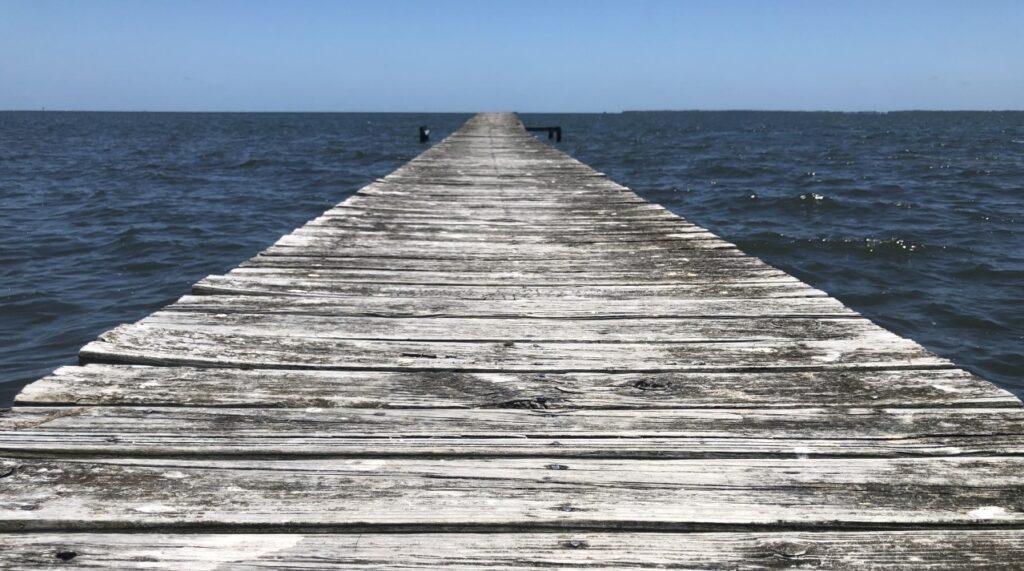 What is the Forgotten Coast?
The Forgotten Coast is the 100-or-so miles of coastline on the Florida panhandle that runs from about Mexico Beach in the west, to St. Marks in the east. The area encompasses all or some of Gulf, Franklin, and Wakulla counties. More than a handful of towns dot the landscape along this Gulf-side stretch of US-98, yet none of them currently crack the 3,000 threshold for their population. A far cry from the Florida most of us have experienced.
The term "Forgotten Coast" is actually trademarked, and has been since the early 90s. While development and sprawl pillaged much of the Florida Coast, this area stayed relatively quiet, undeveloped, and largely uninhabited.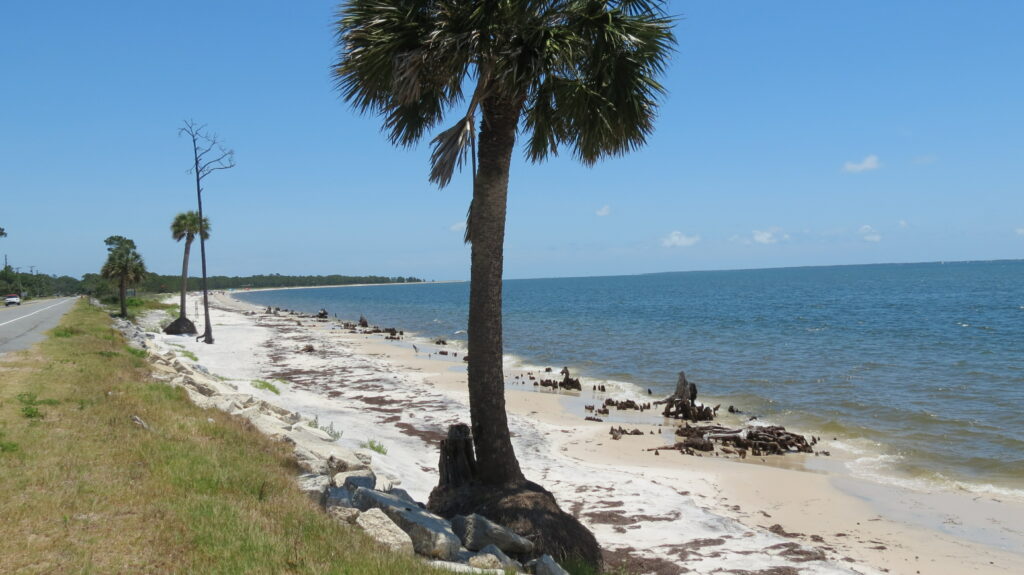 It hasn't always been quite this quiet.
War History
In 1942 the largest development ever seen on the Forgotten Coast got underway. Originally known as Camp Carrabelle, the US military opened a training center here. A total of 165,000 acres were used as training grounds and housing for anywhere from 10,000 to 30,000 soldiers from 1942 to 1946. Parts of Dog and St. George Islands were also used in amphibious assault training exercises by Army personnel until the Navy assumed those responsibilities. By 1946 most of the land and its improvements had been sold off as war surplus, returning this quiet stretch of beach to its pre-war calm.
Where to Stay
Find yourself a rental. The explosion of Airbnb and Vrbo rental properties have made this easier than ever, and along the Forgotten Coast this will be the route to go. The appeal of the area lies in the lack of commercialization. While that is great for the charm of the area, it can make finding a traditional place to stay a little difficult.
Areas like Dog Island, Carrabelle, and St. George Island have no shortage of rental properties available for incredibly reasonable prices. Because the entire coastline isn't used up with condos and hotel complexes, you can probably find a spot right on the water. Private house, private beach, private vacation.
Things to Do Along the Forgotten Coast
For me, there are basically two types of vacations. The first is the busy vacation. Somewhere new with museums and shows and new things to do and experience. Think Rome, London, New York, Chicago.
Then there is the second type. I call this, the "leave-me-the-hell-alone vacation."
On this type of vacation the most exciting thing I want to do is find great new restaurants and plant my backside on a beach. The Forgotten Coast exists for exactly that.
Don't misunderstand me, there is still plenty to do and see all along the Forgotten Coast. That said, if what you crave is a true escape, without hustle and bustle to keep your mind from truly settling down and enjoying what lies ahead of you, this is your destination.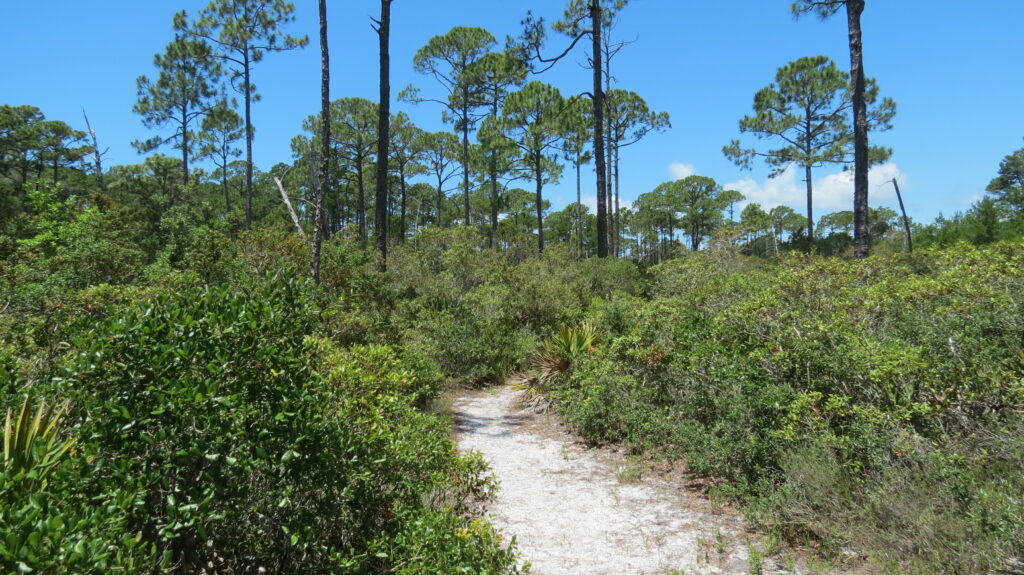 Wildlife Viewing
I haven't had the pleasure of being may places more teaming with life than the area around Carrabelle. Being right on the beach afforded us the opportunity to view all the coastal wildlife you would hope to find, but I've often come to not expect at other destinations. The skies and water are constantly dotted with terns and pelicans, as well as songbirds who call the woods just beyond the beaches home. From our balcony we saw dolphins more than once. Bears and alligators are all around. The wild nature of Florida is before you.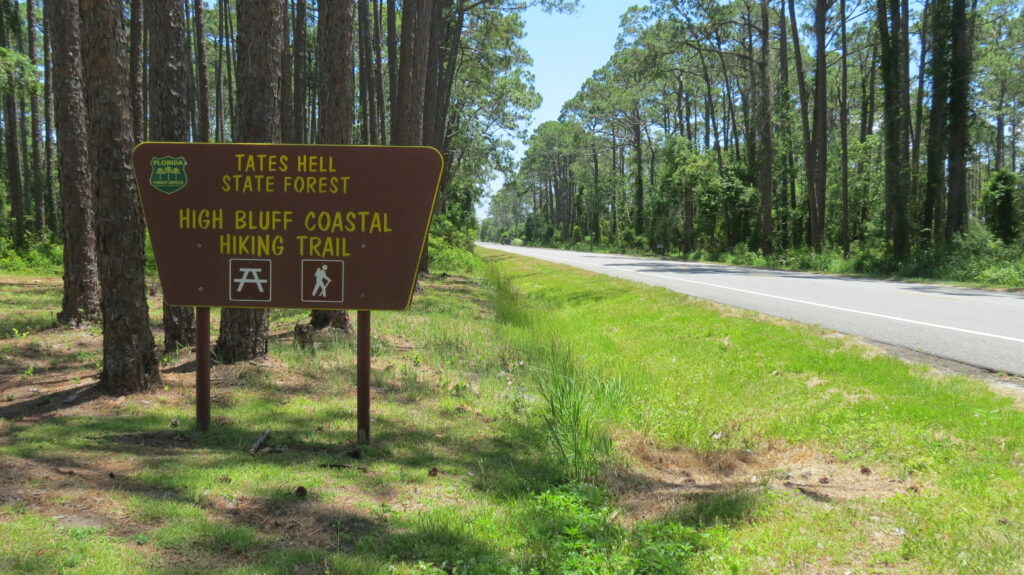 Four wildlife management areas along the Forgotten Coast not only offer great areas for visitors to enjoy wildlife, but has helped keep development to a minimum. The Flint Rock Wildlife Management Area, St. Marks National Wildlife Refuge, Tate's Hell State Forest, and Apalachicola River Wildlife and Environmental Area represent more than 850,000 acres of Florida wildlife area that is protected from development and spoilage. They also represent a significant playground for outdoor enthusiasts to enjoy an authentic "Old Florida" adventure.
It doesn't matter if you stay at your beach house or explore the wildlife preserves in the area, you'll find wild and diverse ecosystem right before your eyes pretty much anywhere you look.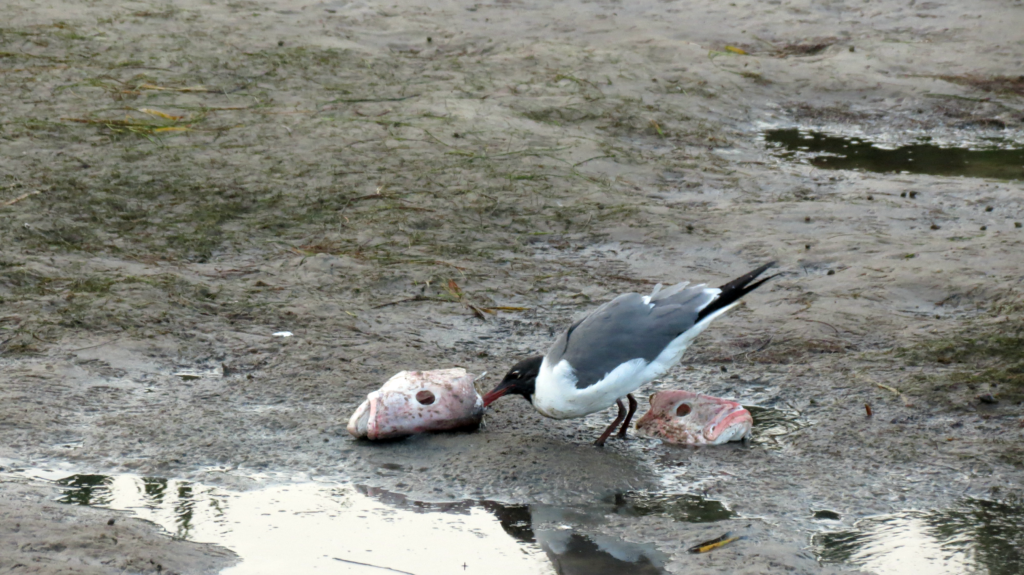 Fishing the Forgotten Coast
The waters of the Gulf are famous for their inshore and offshore fisheries. The area along the Forgotten Coast is no different. Even without a boat or kayak, you're likely to be able to wade into the surf with shrimp under a bobber and find a taker. Your chances only increase if you have a craft to explore more water.
I was lucky. My rental, like many others, had kayaks on site for my use. Most of the water between the barrier islands and the coast is very shallow. There are pockets of water 20 feet deep, but it averages more like eight. Most days, the barrier island keep the water calm enough that being in them in a kayak isn't all that intimidating, even for those new to it.
I wasn't lucky with the wind for most of our trip. I was still able to get on the water, but it was tough to drift grass flats effectively with how fast the wind was pushing me. Not to mention the added difficulty in the chop. The wind was bad enough to almost shut down our day charter fishing as well.
Captain Jimmy Atkins of Tail Walkin' Charters advised us, the wind was going to make it more difficult than usual, but we would still give it a try. All the credit in the world to Captain Jimmy, he kept us on fish in miserable conditions. Wind kicked up two to four foot waves, even inside the protection of the barrier islands, and made for fast drifts.
"We just crossed that area in less than 10 minutes. It usually takes closer to an hour to drift that. We'll do it again," he remarked after one successful, but far too fast pass over a flat.
He still managed to put us on more than enough fish for a good dinner for all eight in our party that night, and if those of us in the boat had done our job a little better, we probably could have doubled our take. As it was, we boated more than a dozen trout and a couple flounder, and a few mackerel broke us off. For about 15 glorious seconds, I was on with a tarpon. He picked my plastic shrimp up gently, and when I took the slack out, he raced against the drag before spitting the hook. The fish had managed to bend the hook more than 10 degrees. One of my sisters did battle with a shark as well.
Considering the conditions we had, it was a great day on the water. Captain Jimmy put us on and around fish all day, and with the wind we were fighting, keeping the boat righted, and four anglers to manage, I don't know what he could have possibly done better. We ate well for several nights because of his efforts.
There's no shortage of charter boats that work along the entire area. For me, I'd ride along with Tail Walkin' Charters again any time. FC Charters is another highly reputable option in the area. While the fishing is good all year, October to December is the sweet spot, with trout and redfish gorging themselves.
Whether you fish with a charter, or just wade into the waters along the beach, the Forgotten Coast has a fishery good enough to make most of the rest of the world jealous.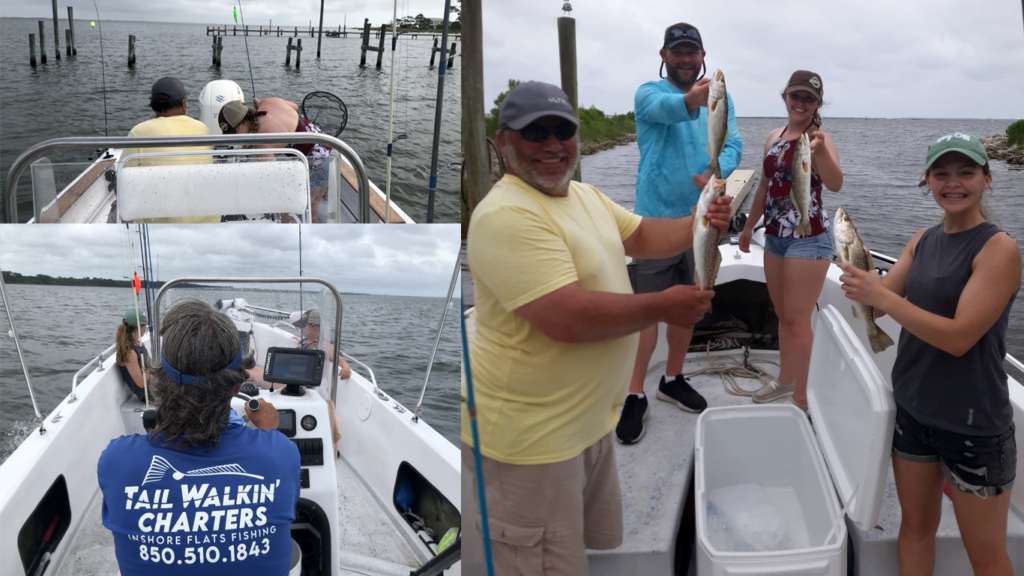 Eating and Shopping
We all gotta eat, right? These days, finding new places to eat is my favorite part of traveling. If those places have fresh seafood, all the better. Driving the Forgotten Coast you'll notice quickly that something is missing. There is practically zero fast food. The small communities along the coast have diners, seafood joints and bars, but corporate fast food is practically non-existent.
The lack of commercialization is a wonderful break from the ordinary.
Of the towns along the coast, Apalachicola offers the most variety for shopping and eating options. Downtown has several blocks of small retail shops and food options. The area is easy to walk, and getting there is as simple as getting and staying on US-98.
Once you arrive, I'd like to recommend a few stops.
The first is The Owl Cafe. The jambalaya I had was delicious. The po' boys some of the others in my group had were just fine, but all the appetizers were outstanding. The crab dip, crab cakes, and fried oysters were cooked and seasoned to perfection. Those appetizers were the culinary highlight of the entire week. The Hooter Brown Tupelo Honey Ale from Oyster City Brewing didn't disappoint either.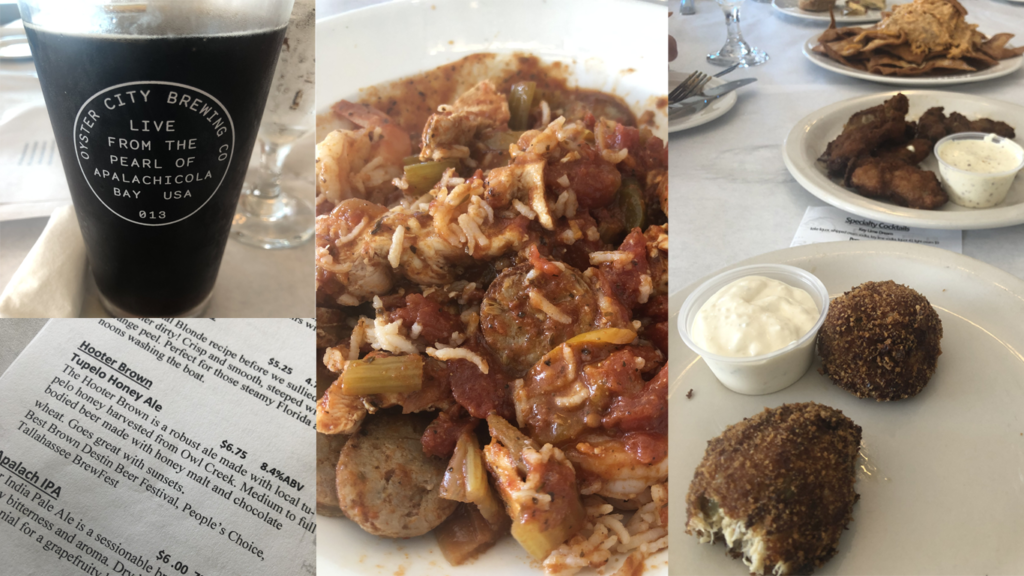 You'll also want to make time to visit the Apalachicola Chocolate and Coffee Company. In addition to the chocolate and coffee, (both of which were top shelf) they have gelato. A perfect treat for the ride out of town as you make your way back to your rental.
Shops are varied. There are knick-knack spots, sporting goods, touristy options, bookstores, art dealers, the whole gamut. There maybe isn't enough there to spend a whole day shopping, but by the time you walk around, grab a bite, and get a coffee, you've had a good day.
What passes for touristy in Apalachicola is downright homey by any other standards. Most of the communities on the coast are dotted with the hole-in-the-wall places that some people drive right by, but that I seek out. The Fisherman's Wife in Carrabelle and Posey's Steam Room and Oyster Bar in Panacea were two such places that did not disappoint.
One more of note is Aunt Eddy's Ice Cream shop on St. George Island. It's worth checking out the island anyway, but if you do, make sure you get an ice cream while you're there. The line will move quicker than you think, and is an accurate indicator of the quality.
Packing Up
If you've ever looked into going to the Hawaiian Islands, you've probably heard the expression, "Oahu is for tourists, the big island is how Hawaiians life." This is very much how I came away from my time on the Forgotten Coast. Those youthful adventures the the kingdom of the mouse are not real Florida. The commercial developments that support the condo industry are a part of Florida, but not its true face.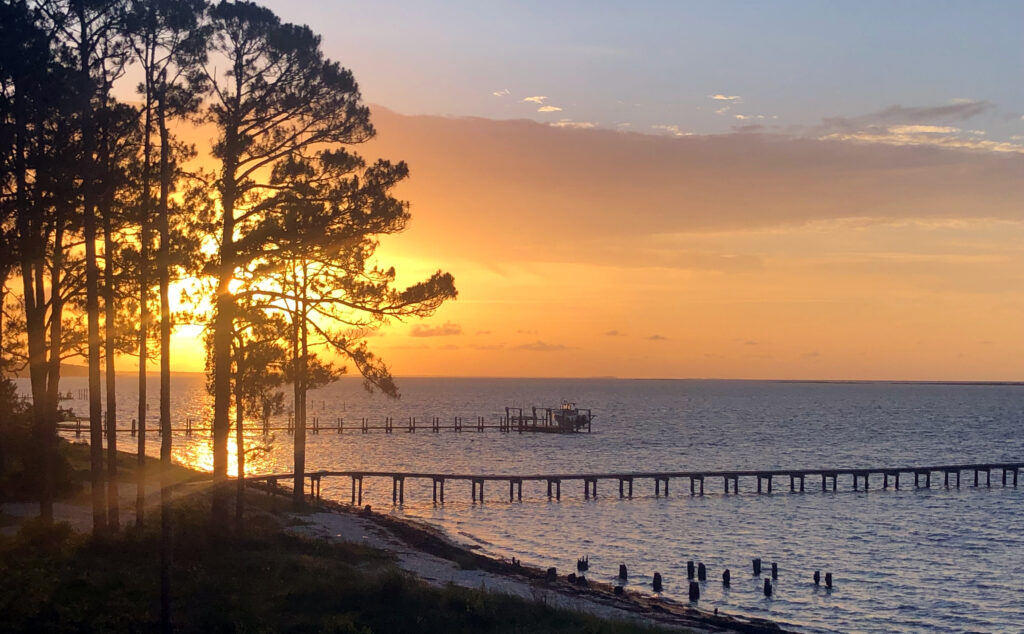 Spending a week along this forgotten stretch of land opened my eyes to the real Florida.
Here's hoping more people can discover this Forgotten Coast.
Once they do, they'll always remember it.