In the matter of standing out in a crowd, the world is filled now with Look At Me people trying to grab some spotlight. They're on social media yammering about the latest grievance, clamoring for attention, crying that they're 'terrified' of something or generally are a wad of crybabies seeking affirmation. Some of them actually work but still need the pat on the head every day to get through their lives. Their idea of personal protective equipment is a cell phone.
Others do their business and want to blend into the crowd. These are the gray men. I guess in today's world they would be the Gray People because they can be men or women. They do their work, go about their business, tend to their families, and don't stand out in any great form or fashion. They are prepared and practice situational awareness. Those who know of these things sometimes notice these people but don't necessarily acknowledge them. The Gray People are just taking care of themselves and their families. Their idea of personal protective equipment is quite different. Should situations digress to nut-cutting time, they may then let themselves be known if they believe necessary to do so.
Until then, remaining gray — in the background, just another guy or gal — is critical. Here are three items you may find useful.
The authors at Tag Soup Adventures may receive free or discounted products to include in reviews or stories on the site.
HTF Garment Bag
Andy Larsson, owner of Skinner Sights in St. Ignatus, Montana, has one of the best things I've ever seen for home concealment. It's his HTF Garment Bag, constructed of tough Cordura. There is nothing obvious or loud about it. Hanging in your closet amid the clothes, it's just another travel bag.
Unzip it — the HTF has heavy-duty zippers — and you'll discover two things. First is that it can be used as a garment bag for travel. The plastic hanger is thick and strong. Second is that if you don't want to do that, you can put a lot of personal protective equipment in this bag. That includes up to a 40-inch long gun and two handguns, three rifle and eight pistol mags, and pouches for flashlights, knives or other accessories.
Larsson came up with the idea years ago when one of his friends needed to see some rifle work in progress. Larsson's primary business is building excellent peep sights for rifles, along with other similar work. Delivery of the rifles to his friend had to be done with utmost discretion to move through some public settings. Larsson put the items in a travel bag and delivered them. The lightbulb went off, as they say, and his idea for the HTF Garment Bag was born.
The HTF's internal holsters are removeable. The bag folds easily, has two durable locking clasps along with the zipper and has wraparound handles. The HTF comes in green or black, although the latter sort of yells "Tactical!" to anyone with enough curiosity to think about stuff like that. Green is a bit more gray.
Besides, if someone gets in your closet who's going to steal a garment bag? No one, most likely. Check out these HTF Garment Bags here: skinnersights.com/scabbards_20.html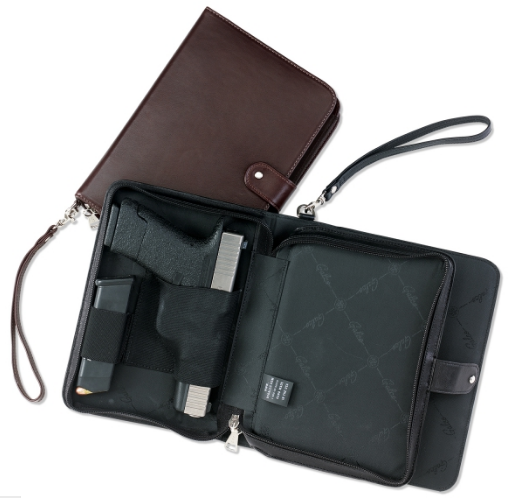 Galco Hidden Agenda
Who notices a day planner? Unless it is designed with rich Corinthian leather (throwback to you old timers who remember TV commercials) or has something unique that catches someone's eye, the day planner is about as boring and old school as can be. The only reason someone might notice one is to think, "Man, in this electronic age that dude has a day planner."
And when you unzip to take some notes, no one will know what else in the Hidden Agenda from Galco you're protected by whatever you choose to put in it. The Hidden Agenda is constructed of full-grain leather, the cornerstone of Galco's storied history with holsters and accessories. It carries a handgun and spare ammo, has lockable nickel zipper pulls, removable wrist lanyards and is stylish.
It's designed for 38 gun manufacturers and multiple iterations of each. See them here: www.galcogunleather.com/hidden-agenda_8_1184_1154.html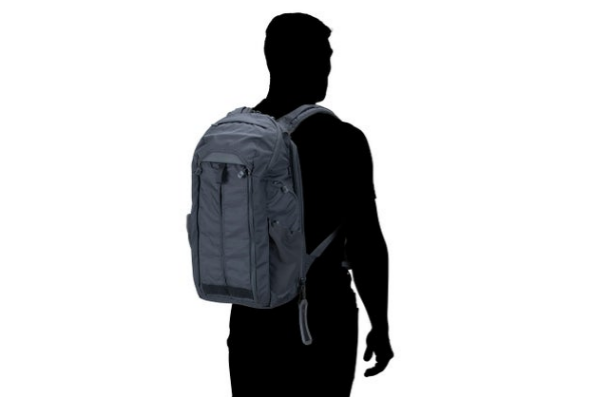 Vertx Gamut 2.0 Backpack
We're a society of backpacks and messenger bags instead of briefcases and attache cases. I have a 30-year-old briefcase that I used back in my newspaper days. Covering events with it was fun because it was sleek, tidy and had a bit of style. It was lockable. It was not leather (which I wanted but couldn't afford) but I loved it. In the 1990s things shifted to multiple-pocket bags made from padded cordura, and sometime in the mid 2000s or so we arrived at backpacks.
The well designed Vertx Gamut 2.0 backpack has a cornucopia of features that are too numerous to list here. Suffice to say the bag wasn't designed by a guy with a pocket protector and slide rule. Whoever went to work on the Gamut 2.0 — presumably a person with bigger thoughts in mind — designed it to handle a 15-inch laptop and accessories. It has large and small pockets. Zipper tabs are easy to grasp and use. It has bottle pockets on the side so you can carry your Yeti or Mammoth and fit in.
The laptop sleeve doubles as a print-proof scabbard capable of holding a PDW rifle or other firearm. It's big, roomy and yet when zipped and secured your goodies are right by your body. To get to said goodies, give a tug to the Hot-Pull Tab and access is granted. This tab opens easily, smoothly and quickly. The main compartment opens 180 degrees so you can pack or access anything quickly. A covertible flip-flap on the front hides MOLLE webbing behind. It also is compatible with a hydration bladder.
The bag weighs 4.2 pounds but has a removable inner sleeve and 3-D molded foam back along with comfortable, adjustable straps. You could use the Gamut 2.0 for a one- or two-day trip, depending on how well you pack and if you only take a toothbrush. You also can take your personal protective equipment to safeguard yourself and others, while remaining gray to blend in quietly. The bag cost me about $220 but I believe it's worth it and think you will, too.
See the Vertix Gamut 2.0 here: vertx.com/gamut-2-0-backpack