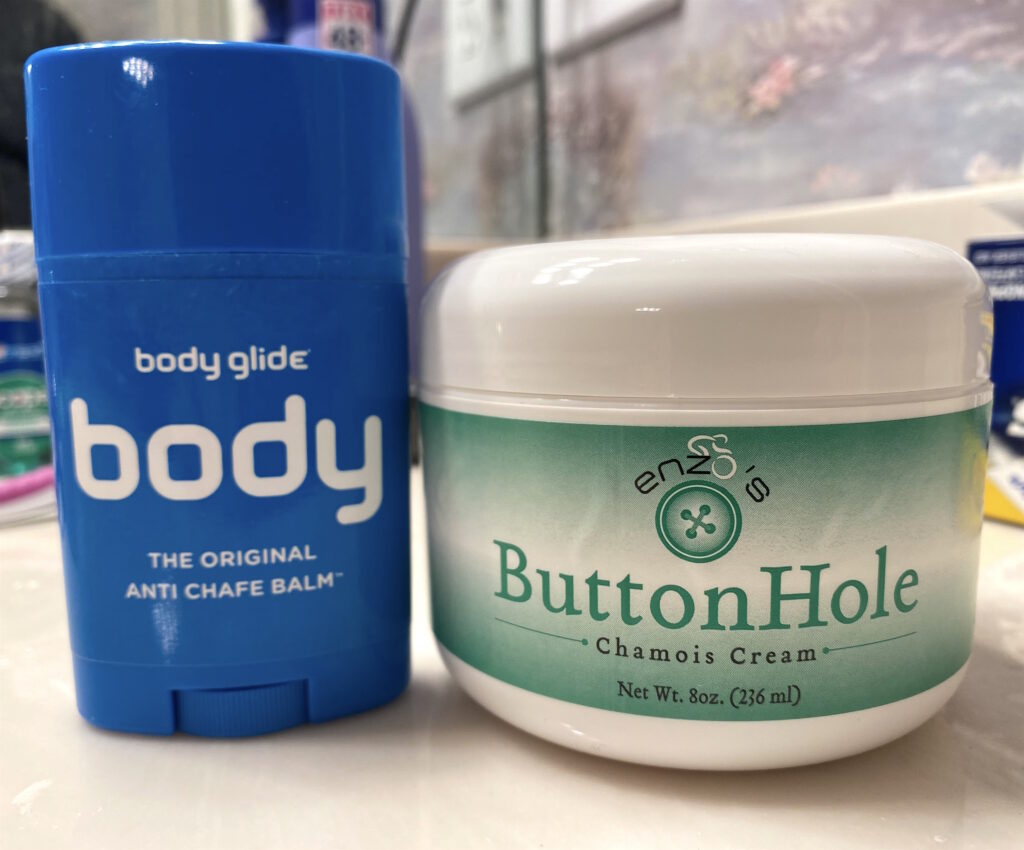 Things felt fine after my 25K trail run until I got home and began peeling off the wet, sweaty clothes in our garage. Shoes, socks, shorts and $#@*($*#(@!!!! Although I prepared well for the event, I never had needed or used anti-chafe cream or goo in the places where my skin now was red, hurting and the cause of a stream of curse words.
Fortunately, my family was not home. Apologies to any neighbors. The run had begun in chilly, rainy conditions. I didn't mind that. But even in summer with our humidity, I never have experienced chafing around my waistline or in, um, some other sensitive areas. Between my thighs and on my bum? Yes, but these were new hot spots. It was painful, especially in the shower, and took a few days to clear up.
How do you prevent chafing? Here's something I'm using.
The authors at Tag Soup Adventures may receive free or discounted products to include in reviews or stories on the site.
What is Chafing?
If you're into trail running, longer road biking, running, or are outdoors continually in summer working, chafing can be an issue. It happens when the skin is continually rubbed by something — clothing, skin, perhaps the edge of a leather belt or trim of a boot — and creates a rash. It's not a blister. That's a different issue that some anti-chafe creams or gels can help with.
Chafing can happen almost anywhere on the body where clothing or something else is rubbing your skin: waist, thighs, buttocks, armpits, nipples. Bloody nipples on a long run with a rough, sweaty shirt is not something you want to encounter. That really hurts. If you're wearing a hydration vest it can be worse.
Body Glide anti-chafe cream comes in a stick and works pretty doggone well. It's best to apply when your skin is dry, or so I've found, and you can get the applicator into some nooks and crannies. Downside to me is sticking it where the sun doesn't shine to get it applied. I've used it for a couple of years. It lasts well during long events. Had I known during my rainy 25K that I'd have new chafed areas, I'd have applied it there.
Enzo's ButtonHole Chamois Cream
At my local bike shop I spied a few cannisters of Enzo's ButtonHole Chamois Cream on the shelf with a couple of other anti-chafe cream products. One was for women, designed with a special pH balance. Smart marketing. Men and women have different needs for some things.
Enzo's ButtonHole Chamois Cream comes in an 8-ounce container. It is creamy and has a pleasant aroma. One of the roughly 28 ingredients, far down on the list, is menthol. Water is listed first, and thus is the main ingredient. Others include oils with interesting names. The cannister says Enzo's "combines melaleuca oil, hamamelis, the Wu-Chu-Yu herb and organic silicone compounds to produce the ultimate buttonhole protection."
If you're wondering WTF is a buttonhole, I did, too. Enzo's is designed for cycling. With the seat designs on road bikes, pressure on long rides can create chafing and saddle sores. Those occur between the legs and buttocks. At the center of all that, right between your goodies, is the perineal area. Or, the buttonhole. Sensitive area, for sure. It's an area where you don't want any chafing. A good anti-chafe cream is a godsend.
The Test Ride
I sprung for the $20 and asked the guy at the bike shop if he'd used it. He had not, but said customers offered good feedback. They also said that Enzo's "has a bit of a tingle, in case you have skin sensitivity, but it's more of a cooling effect than anything." I figured with the bit of menthol in the ingredients that might be the case. But who doesn't love a little tingle in the dingle?
The next day, I slathered a good gob of Enzo's on my thighs, nether region and manparts. Don't skimp. You don't want to miss a spot and come back later chafed and in pain. And … tingle in the dingle, indeed. But nothing bad. More of a "oooohhhh, breezy!" feeling, like when you're at the beach and get a little burst of wind after being in the water. It felt good. Enzo's makes a non-tingle version, too, and its USA-made products are vegan. I smashed my thighs and everything else around to get it all spread around, hiked up my shorts and hit the road.
About 12 easy miles later on my bike including some walking along one of our greenways to look for fish in the river, I was back home. No chafing, hot spots, gooey residue or anything icky. Enzo's got a big A-OK. It is now in full employ, as is the Body Glide. I'll use both and continue to enjoy the tingle.