Walking up to a restaurant you can generally get a feel for what you will find once you get inside. Dead on a Saturday? That's probably a problem. Wait staff looking dour or disinterested? Usually not a good sign. Being packed can mean good things, but not all eateries can handle the stress of a full house. Leroy's Southern Kitchen in Punta Gorda though, not only are they packing the diner in, they know what to do when you get there.
I had called to make reservations earlier that day, and I was glad I did. My wife and I looked at the menu, and each found multiple items we wanted to give a try. I was surprised when I was able to get a same-day reservation for 7:00PM, but was happy nonetheless.
The wait staff could not have been more attentive. We got seated and our waitress quickly let us know she was on another table and their food was coming out so it would be just a minute. No problem. Two other people made sure we had been helped as we sat waiting for our drinks. They easily could have walked right by, but they didn't. Major points for me.
DRINK
The drink menu at Leroy's Southern Kitchen had several offerings that sounded right up my alley. In the end, the marriage of two of my favorite things, blueberries and whiskey, won the day.
The Muddled Blueberry Whiskey Sour is hands down the second-best whiskey sour I've ever had. Anywhere. Ever.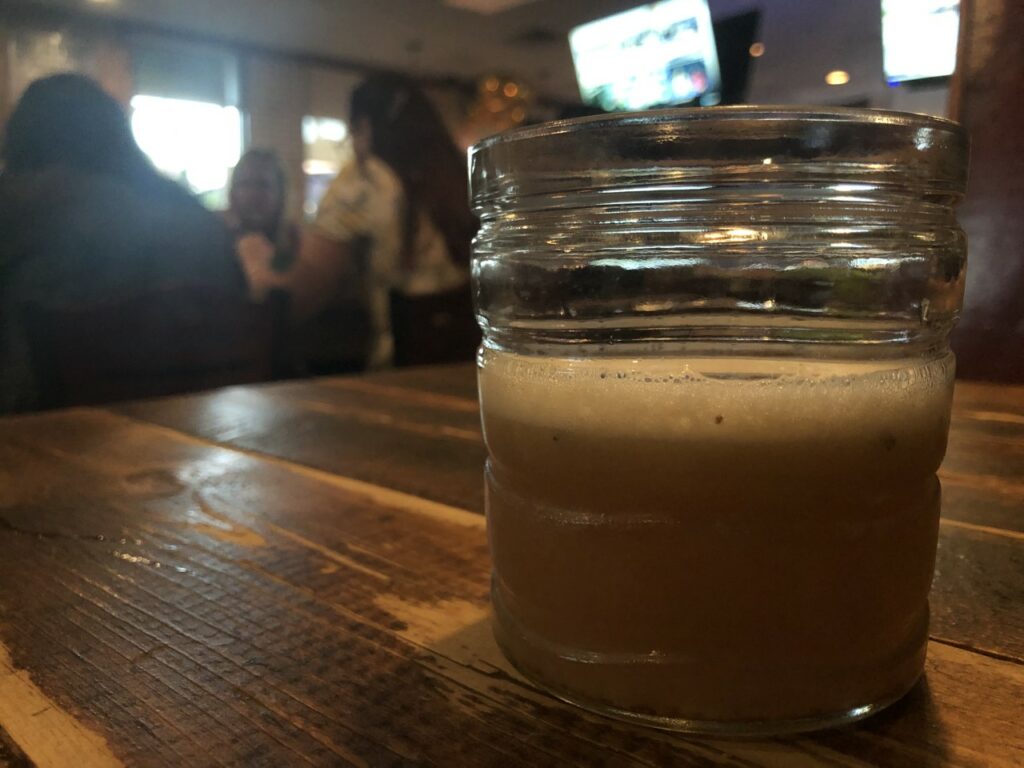 It was exceptionally smooth. The natural tartness of the blueberries keeps it from getting to sweet, a common error with the whiskey sour.
STARTER
We got Leroy's Pork Belly Steamed Buns as our starter.
The steamed buns come full of a bourbon-glazed pork belly and five spice and cucumber tabasco kimchee.
The pork was cooked properly. Too often I find pork belly to be mistreated, and left rubbery and limp. Not the case here. Good finish, tasty glaze.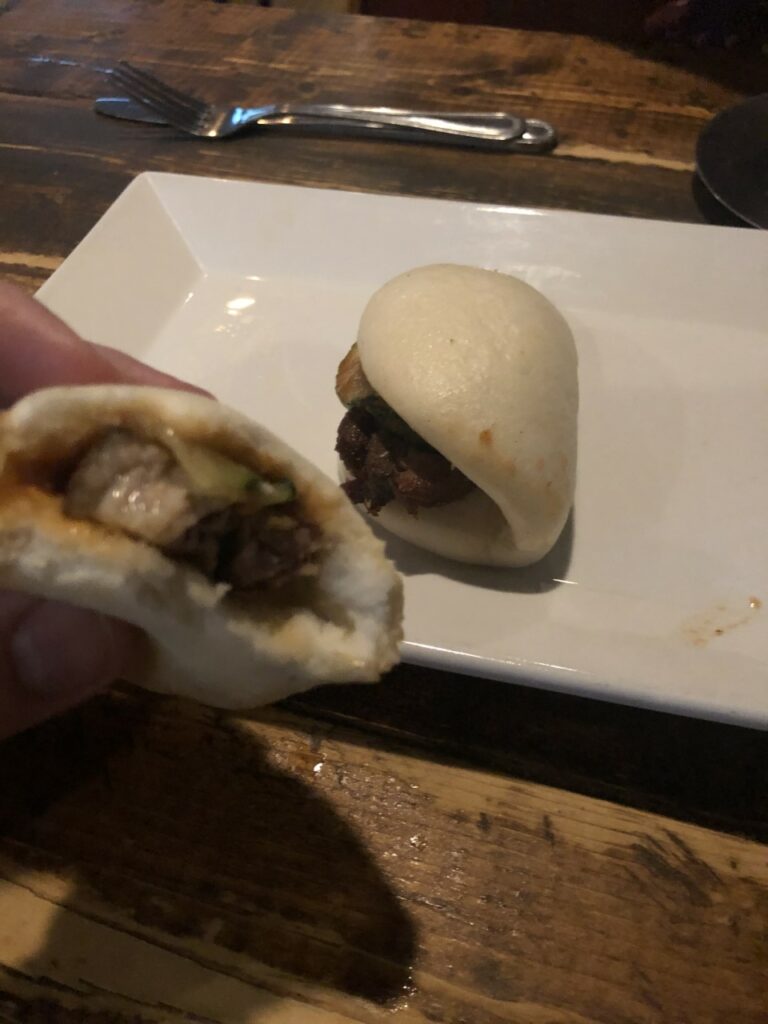 The kimchee has some kick. I enjoyed it, it was pushing the envelope for my wife, but the flavor is there, it isn't just pure heat.
It's the bun that stands out though. I did not expect the steamed bun to be done that well. Super clean texture. Just really well done.
MAINS
There wasn't any way I wasn't trying the pork belly and fried oyster po-boy. Especially after seeing how Leroy's handled the pork belly for the steamed buns, I knew I had made the right choice. The only thing wrong with the po-boy was that it did exactly what it was supposed to do, it came apart. There was so much pork belly, and so many wonderful oysters, it was all but impossible to keep it together. Just like a good po-boy should be.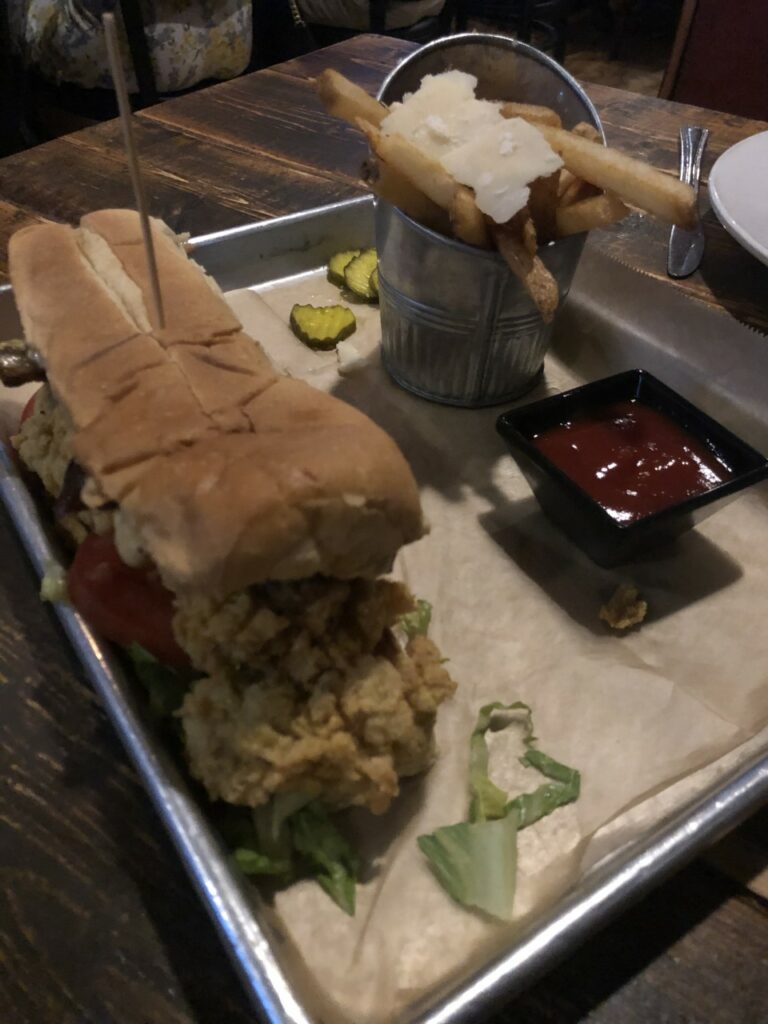 It was deftly handled from beginning to end. The fries were just ok. But in truth, I don't go anywhere for the fries. The po-boy stole the show, and that's how it should be.
My wife opted to go with the Crawfish Mac & Cheese, and I'll be honest, I was skeptical. Most places find a way to skimp on the protein on these types of dishes. Leroy's did no such thing. The ration of pasta to crawfish to bacon was perfection. Another bonus? The crawfish wasn't overdone.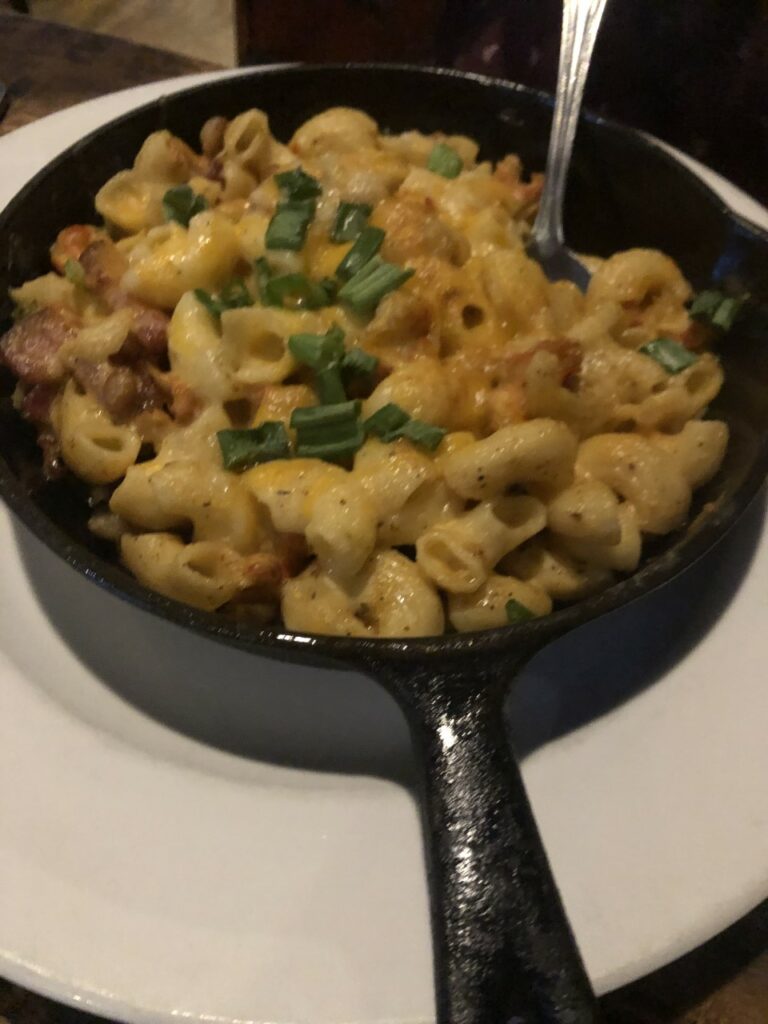 OVERALL
Leroy's Southern Kitchen had every chance to drop the ball during our visit, and never did. We were met with smiling faces, helpful service, and absolutely spectacular food at every turn. I know exactly why the line was out the door that night. This spot is turning out good food, and they're doing it with an atmosphere that doesn't miss.
Our stay in Punta Gorda was enjoyable overall, but the trip to Leroy's Southern Kitchen clearly stands out as the best part of the trip. The next time you are in the Punta Gorda/Port Charlotte area, make sure you get yourself a reservation.
Here's the menu. No doubt you can find something that sounds good.